This page will give you more information on the services we provide.
Please click onto the headlines to find out more.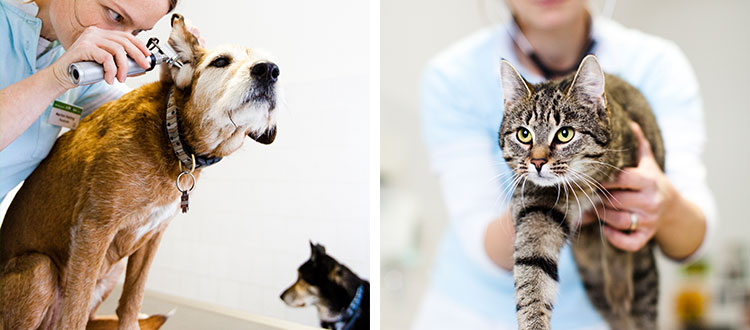 In addition to general advice on feeding, we specialise in formulating customised nutritional plans based on the latest studies in nutritional care for dogs and cats. If you are especially interested in maintaining your pet on a self-made raw or cooked diet, and would like to avoid dried or tinned food, please contact the surgery by mail or phone to arrange an appointment. We will find the best feeding strategy for your pet to suit its individual needs and keep it healthy.
We offer all kinds of soft tissue surgery, including castration and spay, tumour surgery and abdominal surgery. The anaesthetic protocol used is based on the patients' needs and only the latest narcotic agents are used. For a safer anaesthetic or for high risk patients, oxygen supply, gas anaesthetic and special monitors are all available.
Thyroid gland removal is not a commonly practiced surgery in Germany, but can provide a complete cure of a condition called Hyperthyroidism. A large proportion of our cats suffer from this condition later on in life. Giving tablets as an ongoing treatment can be avoided.
The picture below shows "Miju", who happily lived without having to take medication after bilateral thyroidectomy was performed in 2011.
We recommend a thorough examination of your dog or cat at least once a year, when they have reached about 8 years of age. Large breed dogs can show problems even earlier; therefore yearly health checks are advisable from 5 years of age. We can examine your pets as part of their annual vaccination or on other occasions and recommend blood screenings as well as checks of blood and eye pressure to be able to diagnose conditions as early as possible.
Once we have thoroughly examined your pet it might be necessary to perform further diagnostic tests to achieve a diagnosis. We might take blood, examine the urine, take radiographs or perform an ultrasound. Commonly treated conditions include heart disease, kidney problems, liver problems, Hyperthyroidism and Diabetes mellitus.
We help you to prevent tooth decay in your pet by thorough examination and advice. If indicated we take care of dental disease with ultrasound scalers and extraction of severely damaged teeth if necessary.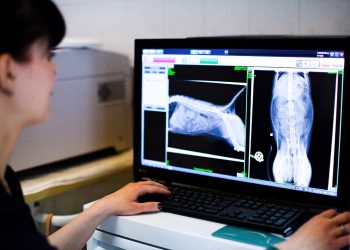 We have a blood chemistry machine to quickly analyse parameters in case of an emergency.
We examine urine by staining it to check for crystals and bladder infections, and also use our microscope for diagnosis of skin disorders. Should more comprehensive laboratory works be needed, we closely work together with a specialist laboratory based in Berlin, allowing us to get results as quickly as 4 hours after taking the tests.
We specialise in treating rabbits and small furies, we take bloods if necessary and aid a diagnosis by taking radiographs and perform ultrasound, or correct teeth anomalies.
If an operation is required, we can offer gas anaesthetic for these high risk patients.
For a lot of conditions, management of a disease can be aided by changing the diet, giving herbal supplements or using homeopathy. Chronic renal failure in cats is the best example.
Appointments with an acupuncturist for treating painful or other conditions can be arranged directly with the surgery.
In case of lameness, muscular tensions and back pain, we are experienced in providing thorough orthopaedic examinations in order to diagnose any underlying problem and can offer various techniques to improve or heal the condition.
Sometimes it is necessary to visit your pet at home. We will do our best to include these visits into our daily schedule as part of our service.
You might have problems with a certain behaviour that your pet is showing. Please feel free to contact us for behavioural advice. In case of a more intense problem, we recommend to contact Herrn Baganz of Hundeschule Knickohr.
Prices for the services are based on the schedule for veterinarians (GOT).
Please understand that the costs for the services are to be paid on the day of treatment.
Payment Methods: Cash, Debit card with PIN